Non Woven Abrasive Wheels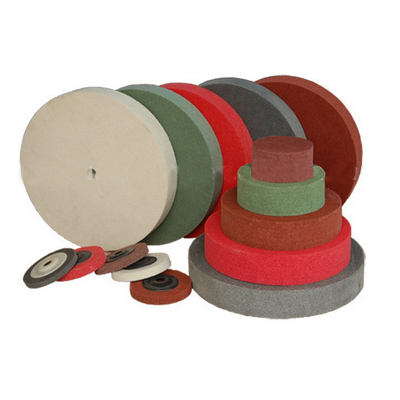 Non Woven Abrasive Wheels
Product Description
Supported by a team of deft professionals, we have been betrothed in providing quality tested Non Woven Abrasive Wheels. These wheels are manufactured by our adroit professionals with the use of top notch grade raw material. Used to clean surface, the offered wheels are highly cherished among clients owing to their easy use. The provided Non Woven Abrasive Wheels can be bought from us in bulk at industrial leading prices.
Key Points:
Optimum strength

Enhanced durability

Smooth surface

Defect free
Technological Paramter:
Colour: Brown(maroon), gray(black), white, red, green
Size: 4"-16"
thickness: 0.5"-3"
Density: 3P-14P
Grit: 80#-400#
Abrasive: A/O,S/C
Feature


Brown
Abrasive: Aluminum oxide Made of standard grade aluminum oxide, the brown version of this abrasive wheel is required for improving cutting efficiency of iron or stainless steel items, manual tools, aluminum casting products and knives. It is also used for cleaning up of welding section, for effective removal of corrosion from metal surface, for adjusting various parameters of metal tools, for grinding work, for cast grinding process and to change specifications of different casting works.


Gray/ black
Abrasive: Silicon carbide Made of premium grade silicon carbide, the black or gray version of this abrasive wheel is utilized to enhance cutting performance of knives, aluminium casting items, hand operated cutting accessories and iron or stainless steel items. In fact, the gray or black abrasive wheel of non woven characteristics comes in handy during metal cleaning work for thorough removal of rust, in cast grinding work, for cleaning welding point, for configuring metal components and also for removal of castings.


Red/white
Abrasive: White aluminum oxide The white or red version of this abrasive wheel is used as an essential part of electroplating procedure for metal wire drawing purpose. The precise design and clearly visible Silk Road of this wheel improves its wire drawing function. Moreover, no unnecessary stain mark or residue is left post wire drawing work. This abrasive wheel is perfect for wire drawing of zinc alloy made components with chrome plated hard surface. During wire drawing of copper components, special care should be taken during handling of soft round section of the drawing to avoid unnecessary pulling. In case of wire drawing of nickel parts, the hardness of wire drawn surface is determined on the basis of its 5P. For 7P surface hardness of lock type surface, thick coating is selected. The hardness of the edge of the drawing tool should be 7P or 5P. The ideal hardness of pre-plated sand needs to be 7P No. 180 # -320 # in case the metal part is made of aluminum.
Green
Abrasive: Green silicon carbide The green version of this abrasive wheel is specially designed for complex form of grinding works where maintaining precision is of utmost importance. This type of abrasive wheel minimizes the possibility of spots created due to high pressure grinding. This green silicon carbide made abrasive wheel is perfect for titanium and stainless steel fabricated parts that include cutlery, golf stick, knives and insulation glass. IN fact, this version of abrasive wheel with non woven attribute is the ideal choice for improving brightness of parabolic surface.


Packing

Description
Specification
Density
Grit
Qty
N.W
G.W
Measurement
(pcs/ctn)
(kgs)
(kgs)
(m3)
Non Woven Wheel
6"X2"
5P
240#
50
14.5
16.5
42cmX42cmX53cm
7P
240#
50
18.5
20.5
42cmX42cmX53cm
8"X2"
3P
240#
50
18
20
44cmX44cmX68cm
4P
240#
50
22
24
44cmX44cmX68cm
5P
240#
50
25
27
44cmX44cmX68cm
7P
240#
50
30
32
44cmX44cmX68cm
9P
240#
50
37.5
39.5
44cmX44cmX68cm
12P
240#
50
40
42
44cmX44cmX68cm
14P
240#
50
43
45
44cmX44cmX68cm
8"X2.5"
9P
240#
40
38
40
44cmX44cmX67cm
12P
240#
40
40
42
44cmX44cmX67cm
8"X3"
9P
240#
30
34.5
36.5
44cmX44cmX63cm
12P
240#
30
36
38
44cmX44cmX63cm
10"X2"
5P
240#
20
13.5
15.5
52cmX27cmX53cm
12P
240#
20
25
27
52cmX27cmX53cm
10"X2.5"
12P
240#
20
31
33
52cmX27cmX66cm
10"X3"
12P
240#
10
18.5
20.5
52cmX27cmX40cm
Trade Information
Shanghai

100000-500000 Per Month